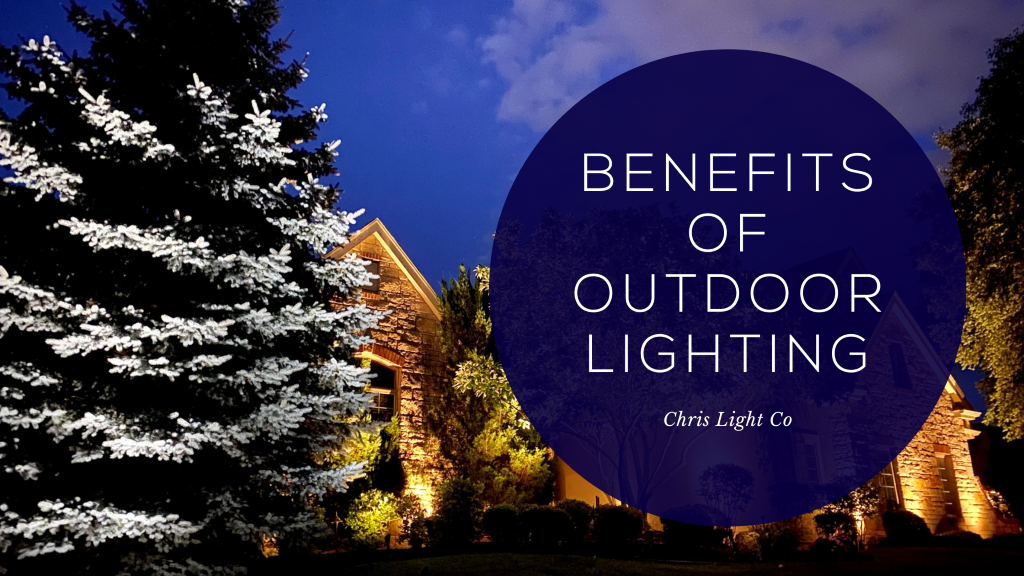 Your outdoor space should be a comfortable area where you want to spend time, both alone and entertaining. However, homeowners do not find comfort in a dark space. In order to maximize the use of your area, you may need to consider landscape lighting in Kansas City. Landscape lighting is an essential and positive feature of any property. Create a cozy space to relax and enjoy the outdoors by adding lights on your deck or patio. Lighting not only creates a dynamic atmosphere, but it also adds safety and security. Our experts in backyard lighting in Kansas City would love to help you fashion a versatile space in your backyard to maximize the use of your area in the evening.
Safety 
Our experts at Chris Light Co will create a design that incorporates your outdoor lighting into your home design. We can create better visibility and highlight specific areas, such as entry points to the home and separate structures like a detached garage or shed. Plus, outdoor lighting in Kansas City will ensure that the house is bright and secure when every member of the family gets home during the evening and night or leaves during early morning hours. At the same time, we can enhance the look of your home and its curb-appeal through our outdoor lighting options. This gives you a double benefit of having home security lights. By adding bright lights around the exterior of your house, you can guarantee shadows and dark corners that easily hide threats brought to light in the late hours of the night. You can ensure that your property is safer to prevent harming anyone and cut down on the chance of being found at fault for unsafe conditions. You may even be able to save on the cost of property insurance by improving the safety of the grounds.
Enhanced Curb Appeal 
The most common reason homeowners invest in outdoor lighting is for its aesthetically pleasing beauty. When professionally installed, light can increase a home's evening curb appeal. Perhaps you have noticed when you drive through a neighborhood at night. Without light, you cannot see a home's features or landscaping. It gets lost in the dark. While perfectly illuminated homes stand out, you may notice how the lighting elegantly enhances architectural and landscaping features.
Extend Use of Outdoor Living Spaces 
Many homeowners have a enjoy spending time on their deck or patio, grilling outdoors, or late-night swims in their pool. If you want to extend the use of your outdoor living space after the sun has set, outdoor lighting is essential for continued enjoyment. You'll use your outdoor areas more often, and you can relax in the safety of seeing what you are doing.
Considering Outdoor Lighting in Kansas City? 
Are you considering outdoor lighting in Kansas City? Let the lighting experts at Chris Light Co assist you. We are dedicated to keeping you and your home safe with our lighting products and placement techniques. Contact Chris Light Co here or call at (913) 851-5882 to discuss your options with outdoor lighting in Kansas City today.