Landscape Lighting in Kansas City
Your home's exterior is one of the most attractive and distinctive features of your home, and sadly, it is often diminished once the sun sets. Without the benefit of sunlight or proper lighting, this will reduce the enjoyment and view of your outdoor space while limiting the amount of time you can use your yard at night. Our team at Chris Light Co would love to help with that problem. As the most trusted landscape lighting company in Kansas City, we are known for providing high-quality lighting products at a fair price to those in our area. With the best quality products in the lighting industry, we will find a design that blends seamlessly into your landscape. We have been a proud, hard-working lighting company in the Kansas City metro area for over 20 years and would love to add your stunning outdoor lighting design to our portfolio. Check out some of our work and outdoor lighting displays here. After you look at these amazing images, it will become evident that we are passionate about landscape lighting in Kansas City, and we want to give your home the same "Wow" effect as we did for these homeowners.
Your Trusted Landscape Lighting
Company in Kansas City
We are here to help you maximize your investment while creating an outdoor living space that you will enjoy and use to its best potential. Our professionals are trained in lighting designs and techniques that maximize our time and materials while providing you with the best experience possible.
One of the most significant benefits of landscape lighting in Kansas City is that it increases your home's curb appeal or the first impression that others have of your home. Like any first impression, you only get one shot, and that impression is hard to change. Just the look of your home from the street can leave a lasting impression on others. That is why the landscape lighting on your home is so important. It's the first thing visitors will see at night.
Ready to Take the Next Step in Your
Residential Outdoor Lighting Project?
Are you considering installing landscape lighting for your Kansas City home? A professional can help meet all of your lighting needs while adding beauty and functionality to your outdoor space. This addition to your landscape is just one way to personalize your home and while maximizing your space. Contact Chris Light Co, the best landscape lighting company in Kansas City, here or call at (913) 851-5882 to discuss your lighting options today.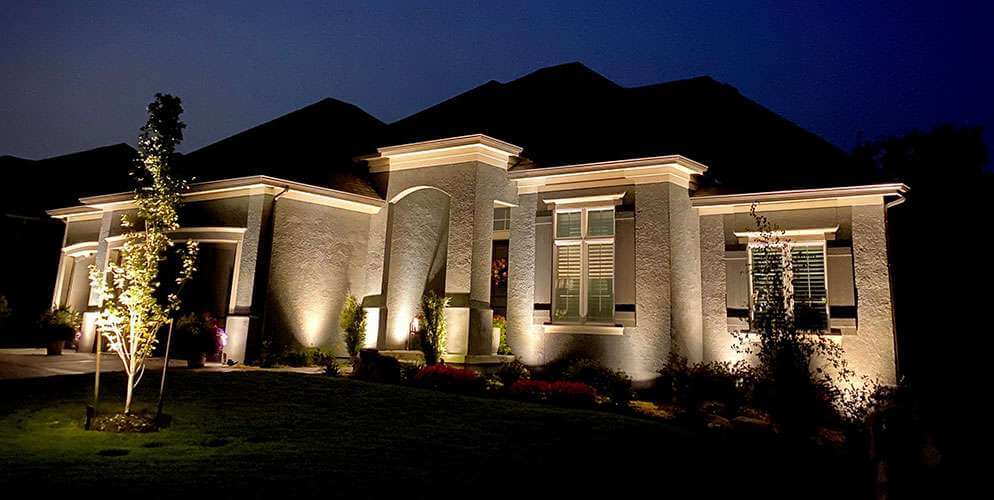 We are Trusted and Recommended
What Our Clients Are Saying
CLC did a GREAT job on our Christmas lights! Chris is a true professional! Thank you! I have recommended you to everyone I know. So glad I found you.

Brian N.
Chris is very professional and has great advice on the type of lights to use. I had a lot of questions when I initially called and he was very patient and explained all that I needed to know. I am so glad we found him and I'm really looking forward to another year of beautiful holiday lights.

Stacy K.
Chris Light Co is fantastic. They have been professional, responsive and provide excellent service. The holiday lights on our home are beautifully installed and we cannot wait to see them this holiday season. To top off great service, I opened the mail today and found a personally written note to say "Thank You". A small touch with a big impact.

Melissa B.
I had an INCREDIBLE experience with Chris and his employees! Chris's communication was always great! His employees and Chris were all polite and hard working. I highly recommend this company and their services to anyone! We will be using them again!

Yen N.
Lighting System Repair & Maintenance
10
YEAR
WARRANTY
ON LIGHT FIXTURES
15
YEAR
WARRANTY ON SPUN
BRASS & COPPER FIXTURES
Life
TIME
WARRANTY ON CAST
BRASS FIXTURES ONLY