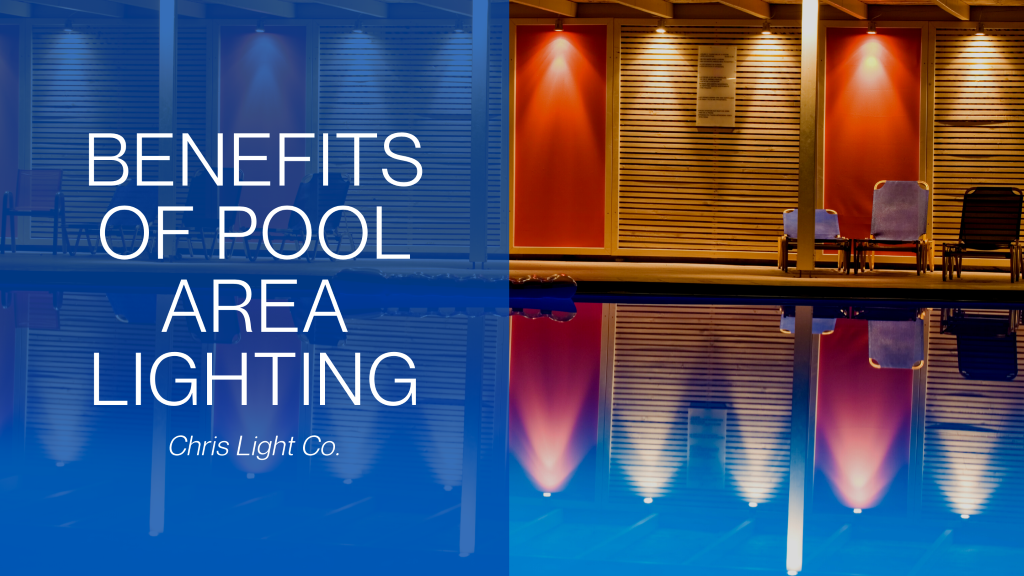 Your pool area is a spot for family fun and relaxation. In order to utilize this space the most, you should consider pool area lighting. Pool area lighting is an excellent addition to your outdoor space, which has many different benefits. Our team of lighting experts at Chris Light Co want to help you experience everything your pool has to offer, and that includes all the additional benefits pool area lighting can bring. Join us through this article in exploring the benefits of adding pool area lighting in Kansas City. 
What Are the Benefits of Pool Area Lighting in Kansas City? 
Improves Night-Time Visibility
Extends Pool Use into Evening Hours
Enhances Safety
Highlights Important Architectual Elements like Walls and Decks
Sets Vibrant, Mood-Enhancing Feelings through Your Outdoor Space
There are many benefits to pool area lighting in Kansas City. When you illuminate your pool with a lighting system by Chris Light Co, you enhance the rest of your backyard. With unique architectural elements like walls, decks, gazebos, and seating in your backyard, you allow them also to be highlighted with your new lighting system. Additional lighting also creates enhanced security. Dangers like pests, intruders, and even dangerous items on the ground become limited with your additional lighting. You allow your family and guests to feel safer in this space, creating a lighter mood throughout the evening.
Outdoor lighting in Kansas City  lets you choose the mood you want your space to present. Lighting in and around your pool area adds beauty, drama, and mystery to your space. Enjoy all the options in pool lighting, from white lights to amazing automated and timed color effects. Bring mystery and excitement to your backyard paradise with mood-enhancing lighting. You can even celebrate holidays or birthdays with festive colored lights. Whatever your mood, pool lighting lets you create the backyard ambiance that you desire.  
Extend your pool fun throughout the evening when you add pool area lighting to your design. Sunset does not have to symbolize the fun ending. Instead, it is just another beauty to enjoy throughout your time outdoors. Entertain your guests later into the evening without leaving them in the dark with unique and specially designed pool area lighting from Chris Light Co. 
Considering Pool Area Lighting in Kansas City? 
Are you considering pool area lighting in Kansas City? This addition to your outdoor space is just one way to personalize your area and make the most of your home. Contact Chris Light Co here or call at (913) 851-5882 to discuss your lighting options. Our lighting experts are ready to help you design your outdoor lighting plan in Kansas City. Reap all the benefits pool area lighting has to offer to keep your pool fun from getting cut short.