Pool Area Lighting in Kansas City
The summer heat we experience here in the Midwest can only be beaten by a refreshing swim in your pool. Don't limit your time to only enjoying this swim by daylight, stretch your time spent in the pool with a custom pool area lighting in Kansas City from Chris Light Co.
Your pool area is a spot for family fun and relaxation. To fully utilize this area, you should consider investing in Pool Area Lighting in Kansas City. This style of lighting is an excellent addition to your outdoor space. By adding a lighting system to your pool area, you gain many benefits.
What Are the Benefits of Pool Area
Lighting in Kansas City?
Improves Night-Time Visibility
Extends Pool Use into Evening Hours
Highlights Important Architectural Elements like Walls and Decks
Sets Vibrant, Mood-Enhancing Feelings through Your Outdoor Space
Enhances Safety
We Are Your Trusted Pool Area
Lighting Company in Kansas City
Make full use out of your outdoor attractions by integrating a fully customized pool area lighting design from our team at Chris Light Co. We are dedicated to making your space unique and functional for your needs. When you choose to light up your pool area with our team, you not only extend your time for pool use into the night hours, but you also enhance safety for your family and guests during this time. While you are also enhancing the stunning architectural features of your outdoor space, such as rock walls, water features, and stunning greenery. You are also protecting those in the area from dangers lurking in the dark. Rest assured that your custom pool area lighting design is made to light up your entire area. Extra lighting will prevent guests from tripping on items left in the walkway, as well as being completely aware of the boundaries of the pool.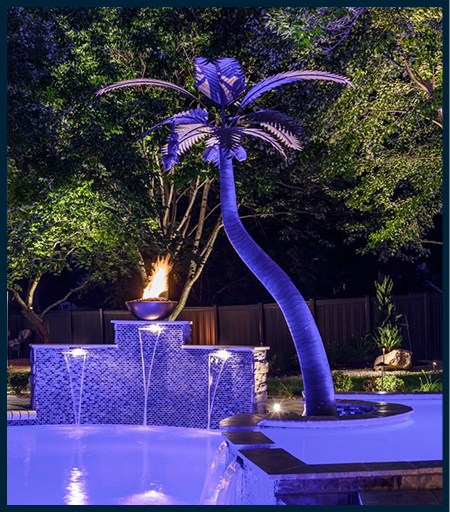 Chris Light Co.
Gives You Options
There are many options you can enjoy with pool area lighting in Kansas City. From white lights to amazing automated timed color effects, their variety of designs goes on and on. Bring mystery and excitement into your backyard paradise with mood-enhancing pool area lighting in Kansas City. You can even celebrate holidays or birthdays using these festive colored lights. Our team of lighting experts at Chris Light Co is prepared to help you illuminate your backyard life today.
Our installation and design teams are ready to tackle the most complex pool area lighting in Kansas City. Get a free quote by calling (913) 851-5882 or submit a form here. Our qualified designers and lighting installers are ready to start on your upcoming pool area lighting project today!
We are Trusted and Recommended
What Our Clients Are Saying
CLC did a GREAT job on our Christmas lights! Chris is a true professional! Thank you! I have recommended you to everyone I know. So glad I found you.

Brian N.
Chris is very professional and has great advice on the type of lights to use. I had a lot of questions when I initially called and he was very patient and explained all that I needed to know. I am so glad we found him and I'm really looking forward to another year of beautiful holiday lights.

Stacy K.
Chris Light Co is fantastic. They have been professional, responsive and provide excellent service. The holiday lights on our home are beautifully installed and we cannot wait to see them this holiday season. To top off great service, I opened the mail today and found a personally written note to say "Thank You". A small touch with a big impact.

Melissa B.
I had an INCREDIBLE experience with Chris and his employees! Chris's communication was always great! His employees and Chris were all polite and hard working. I highly recommend this company and their services to anyone! We will be using them again!

Yen N.