Creating the perfect outdoor Christmas light display can be fun. It can also be overwhelming, especially if you have never done it before. Therefore, it's a good idea to enlist an outdoor lighting company in Kansas City like Chris Light Co., to help create and hang the perfect holiday light display.
Most people being with their roof as a great starting point for a light display. The shape of your roof can make a big difference in the outcome. Here are a few of our favorite options.
Classic White- This is one of the most popular roof colors to do in the wintertime. Not only can you display it for Christmas but throughout New Year and beyond. It's classic in style, can go with any porch theme you choose to make everything look seamless. Many people combine icicle lights with an outline of your roof to make the whole design really pop.
Classic Red and Green- This color combination defiantly brings the nostalgia of Christmas. Many people choose the classic red and green because it brings back memories and really hits home during the special time that is the holiday. If you are hosting a Christmas party this season, picking this combination is a great choice
Blue and White- If you are not a fan of classic Christmas colors, want something different, or celebrate Hannukah instead of Christmas, blue and white is a beautiful combination to try this holiday season. Glowing blue lights bring a spectacular glow to your yard and stand out over more commonly used classic colors.
Once you pick your colors, it's a great idea to layer your light display. This can mean adding icicle lights, outlining the windows, wrapping trees, or a porch with contrasting colors. The lighting combinations can be endless, so choosing a unique option for your home isn't hard. If you choose a Christmas light company in Kansas City like Chris Light Co., they can help you create a unique lighting display that shows your Christmas spirit to the whole neighborhood.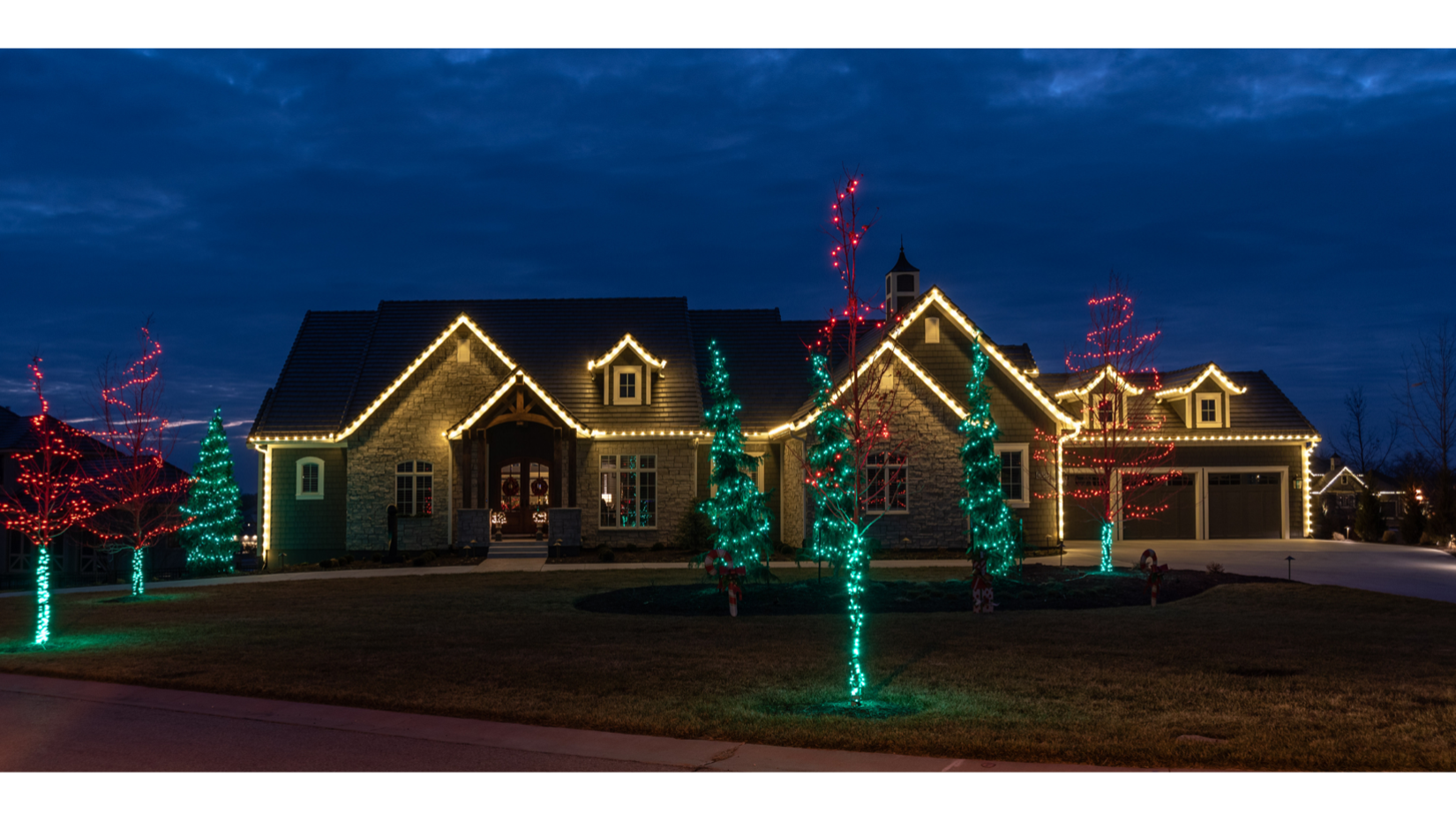 There are also some new modern features that make Christmas lights in Kansas City much more convenient for homeowners.
You can have outdoor lighting installers in Kansas City install your light display with a timer. This is a great option because you can set the timer and be done with the hassle of bundling up to turn on and off the lighting display this winter.
You can have a lighting display with removable bulbs. Have you ever strung lights and noticed when one goes out, a whole section goes out? It's almost impossible to find the light that is out and get them working again. With new modern lighting displays replacing a single bulb is easy and you can get your display back on track.
At Chris Light Co., we are a Kansas City Christmas Light Installation Company specializing in outdoor lighting. Kansas and Missouri residents have depended on us for over 20 years because many consider us the best outdoor lighting company in Kansas City. Give us a call today at (913) 851-5882 or visit our website to get a quote on our services.
We look forward to creating the perfect outdoor lighting display for your home.