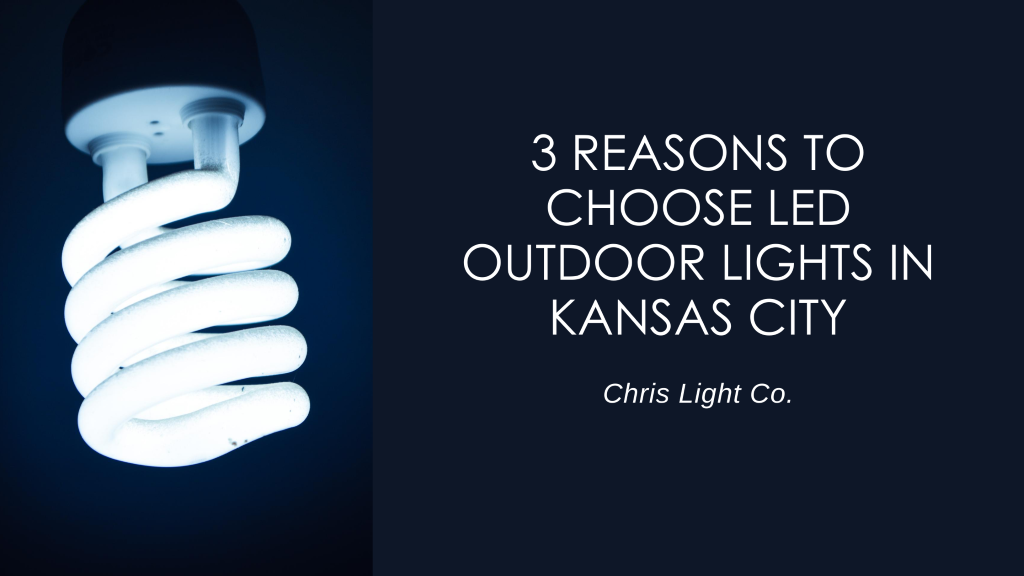 Our experts at Chris Light Co want to help you understand your options for outdoor lighting in Kansas City. One of the great options we provide is LED outdoor lights. As with any other options, they come with a list of pros and cons. We believe that there are many great benefits of integrating LED outdoor lights in Kansas City homes. Throughout this article, we will explore the three reasons we believe you should choose LED outdoor lights for your outdoor lighting in Kansas City. 
Durability 
LED outdoor lights are manufactured using epoxy rather than glass. This makes it less likely to break if someone accidentally bumps into a light or a hailstorm occurs. These lights can stand up to wind, rain, heat, and other harsh outdoor conditions. They will consistently light up your yard or walkways, and you won't need to buy replacements frequently. Talk with a professional outdoor lighting company in Kansas City about how adding LED lighting to your design can extend the life of your lighting design.  
Cost 
This technology can significantly reduce your home's electricity bill. If they both have the same brightness level, a LED light draws about one-quarter of the power that an incandescent bulb consumes. In addition to producing light with greater efficiency, some LEDs are more directional than other bulbs. This allows them to brighten specific places without wasting energy to illuminate the surrounding area. They can also last much longer than traditional light options. Regardless of how roughly the weather treats them, LEDs will remain in service for more years than other lights. You save money in the long run by limiting your need for replacement.
Reduces Bug Traffic 
Most outdoor lights attract mosquitoes, gnats, and other bugs. However, CNET said that LEDs often draw few or no insects. This is because many LEDs emit no UV light. Results vary depending on the specific lighting product and bug species. With fewer insects to catch, spiders may also stay away from your LED lights and build webs elsewhere. If you are looking to limit your bug traffic within your outdoor space, LED outdoor lights in Kansas City is the way to go.  
Considering LED Outdoor Lights in Kansas City? 
Are you considering LED outdoor lights in Kansas City? A professional can help solve all of your lighting needs while adding beauty, distinction, and functionally to your home. This addition to your outdoor space is just one way to personalize your area and make the most of your home. Contact Chris Light Co here or call at (913) 851-5882 to discuss your LED outdoor light options today.