The ever-changing seasons we see here in the Midwest can take their toll on your lawn. Care and maintenance of your lawn will ensure that it stays beautiful through the seasons. For many homeowners, lawn care is standard practice, however many forget the important task of aeration. Here at Chris Light Co, we are dedicated to making sure your lawn is in the best condition possible. There are so many great things that come along with proper lawn care and aeration.
Added Benefits of Aeration
Reduced Soil Compaction
Enhanced Thatch Breakdown
Improved Fertilizer Uptake and Use
Advanced Air Exchange Between the Soil and Atmosphere
Aerating your lawn can make a lasting difference in the quality of your lawn or turn. This process includes puncturing holes into the soil and grass which helps the roots reach the sustaining and nourishing nutrients that they need to thrive. Our team at Chris Light Co offers aeration services to provide your lawn with the best care possible. Contact us at (913) 851-5882 to schedule aeration for your lawn today!
Verticutting is a process designed to help you rid your yard of thatch, disease, insects, and other debris without damaging the healthy grass blades that make up your yard. Verticutting can be used in combination with other techniques, such as aerating, in order to achieve an even better final product for your lawn. When focusing on lawn maintenance, this step is often looked over but it is extremely important for a healthy lawn. Verticutting allows the grass to absorb nutrients and moisture most efficiently.
Benefits of Verticutting
Improves Overall Strength and Health of Your Lawn
Gives Grass Roots Better Access to Oxygen, Nutrients, and Water in the Soil
Conserves Water
Wouldn't you love for your lawn to look more vibrant and healthier throughout the seasons? Consider hiring Chris Light Co for your verticutting needs. Contact our team at (913) 851-5882 to schedule your verticutting appointment today.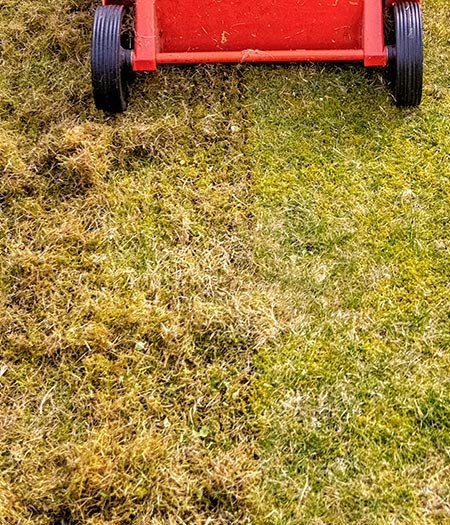 Seeding and Overseeding your lawn with Chris Light Co can help you achieve the best results possible for your lawn. Whether you are planning on seeding a brand-new lawn or overseeding an existing lawn, our team at Chris Light Co is happy to help.
In order to best serve your lawn, we examine your specific situation and decide on a good plan of action together. For new lawn seeding, we select the right type of seed based upon a variety of elements, fertilize the surrounding soil, and then provide you with instructions on how to best care for your lawn after we leave. This will ensure proper practices and give you the tools you need to help your lawn thrive.
Contact Chris Light Co for all of your lawn seeding needs today. Reach our team at (913) 851-5882 to schedule your lawn assessment today.
Downspout and Sump Pump Drainage Solutions
We are no stranger to the rain and wet weather we see, especially in the Midwest during spring. Our drainage systems work hard, but there are far more efficient ways to help your water drain away from your home's foundation. Proper drainage is a major concern for many homeowners, as we understand the importance of a solid foundation and the negative effects moisture can have on that. That is why our team at Chris Light Co is ready to assist you with your downspout and sump pump drainage solutions.
The signs of improper drainage are clear throughout your home and yard. From pooling or sitting water to finding water in your foundational walls or window wells, these are all signs that your home is screaming for help. There are many things you can do to solve the problems, but the best thing you can do for your lawn is contact Chris Light Co for your drainage needs.
Rely on Proper Drainage for Your Kansas City Home
Your home is a safe haven for your family and guests. It is extremely important that the structural integrity of your home is maintained throughout the years, and improper drainage can infringe on this goal.
Dangers of Improper Drainage
Debris Carried in Storm Water Clogging Drains and Lead to Flooding
Dangerous Pollutants in Yards and Foundation
Pooling Water in Yards, Damaging Landscaping Designs
Water Pooling Around Foundation Causing Cracks and Potentially Dangerous Foundational Instability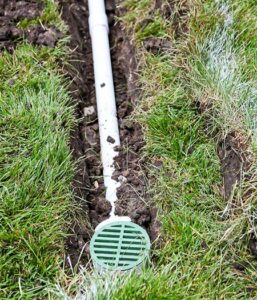 Downspout Extensions
There is a way to get water away from your house and flowing towards a designated drainage area and that is through downspout extensions. This is installed by burying a pipe underground with an outlet at the end of the pipe that pops open when water is exiting and closes when water stops to prevent any clogs. Call Chris Light Co today to talk about how we can install downspout extensions on your home today. We can be reached at (913) 851-5882 to schedule a consultation.
Contact Chris Light Co for Your Drainage System Needs
Contact Chris Light Co for Your Drainage System Needs
Our team at Chris Light Co is ready to tackle your drainage system needs you have around your Kansas City home. Caring for your lawn and home is important to you, and therefore it is important to us. Schedule a time to discuss your sump pump and downspout drainage solutions today. You can reach our team at (913) 851-5882 today!
Landscape Clean-Up and Mulch
Whatever the season, it is important to maintain your lawn with proper landscape clean-up tasks. Those tasks can be time-consuming or challenging for some individuals, but that is where our team comes in. Here at Chris Light Co, we want to help you achieve the lawn of your dreams, and that means offering our landscaping clean-up services as well as other services such as mulching. We understand your time is valuable, and allowing the professionals to handle tasks like these can free up your time to do what you want to spend your time on.
Your home and outdoor space should be in good shape for the activities you want to experience, therefore landscape clean-up and other services like mulching are the best things you can do for your space. We would love to maximize the use of your space, as well as keep it aesthetically appealing. Allow us to do this by scheduling our team for landscape clean-up and mulching today.
What Does Landscape Clean-Up Entail?
Hauling Away Debris
Re-seed Damaged Lawn
Aeration
Pruning and Trimming Trees
Redefining the Lawn Borders
Re-edging and Cleaning Gardens and Flower Beds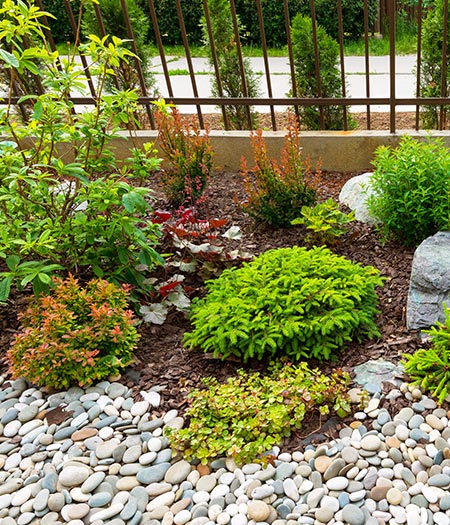 Mulching
There are so many different types of mulch offered to homeowners. For example, there are mulch chips, plastic mulch, grass clippings, pine straw, and wood shavings just to name a few. When you choose mulching services from Chris Light Co, we take your material of choice and lay that over the top layer of soil around the plants in a bed or garden. With so many great benefits to this landscaping service, it is a task that should be handled by professionals. Proper mulching promotes proper nutrition of the soil and helps to maintain and monitor an even temperature of the soil below. Give our team at Chris Light Co a call at (913) 851-5882 to discuss your mulching needs and how our guys can help.
Chris Light Co is Your Go-To Landscaping Company for Clean-Up and Mulch Services
You can trust that the job will be done right when you choose Chris Light Co for your landscaping needs. While we are known for our outdoor lighting abilities, we thrive in all of our landscaping projects and would love to help you accentuate your house with our landscaping services. Schedule a time for us to talk about your landscape clean-up and mulching needs today. Call (913) 851-5882 to schedule an appointment with Chris Light Co for your specific landscaping needs.
Retaining walls are versatile, durable and offer a wide range of solutions. You can add landscape lighting, appropriate plantings, and perhaps a set of stairs or two, and your property will stand out as something special. A retaining wall can convert a slope into a flat level area. This can allow for the construction of structures that otherwise couldn't be built on such a property, like a parking lot, sports field, or building.
There are many benefits of a retaining wall:
Increase Property Value
Protect Property from Flooding
Slow Down Soil Erosion
Add Beauty to your Landscape
For a FREE estimate, call 913-851-5882 or fill out our convenient online form.
We are Trusted and Recommended
What Our Clients Are Saying
CLC did a GREAT job on our Christmas lights! Chris is a true professional! Thank you! I have recommended you to everyone I know. So glad I found you.

Brian N.
Chris is very professional and has great advice on the type of lights to use. I had a lot of questions when I initially called and he was very patient and explained all that I needed to know. I am so glad we found him and I'm really looking forward to another year of beautiful holiday lights.

Stacy K.
Chris Light Co is fantastic. They have been professional, responsive and provide excellent service. The holiday lights on our home are beautifully installed and we cannot wait to see them this holiday season. To top off great service, I opened the mail today and found a personally written note to say "Thank You". A small touch with a big impact.

Melissa B.
I had an INCREDIBLE experience with Chris and his employees! Chris's communication was always great! His employees and Chris were all polite and hard working. I highly recommend this company and their services to anyone! We will be using them again!

Yen N.